Presto Dorothy Rapid Cold Brew Maker: Does it deliver?
This post may contain affiliate links. If you make a purchase through a link I may earn a commission. As an Amazon affiliate I earn from qualifying purchases.
In recent years, a slew of rapid cold brew makers have hit the market. Certainly one of the disadvantages of having a penchant for cold brew is that you can't make a cup of coffee on impulse. These new coffee makers claim you can have cold brew in as little as 15 minutes.
After years of brewing long and slow, could this claim really be true? I was curious to find out, because I sometimes forget to start my coffee brewing the night before.
From a scientific standpoint it is possible. A 2021 article found that much of the coffee extraction has occurred after just a few hours. This study also found that agitation can accelerate that process.
And some form of agitation is exactly how these rapid brewers work.
One popular choice is the Presto Dorothy Rapid Cold Brew Maker (affiliate link, Amazon). I have had this machine for about 10 months now, so it seemed high time to write up my thoughts.
Upshot: A novel brewer that is fun to watch. It can brew coffee in 20 minutes, but the resulting coffee was not as bold, smooth, or clear as I like it. That said, it is not without its merits including a glass carafe, top rack dishwasher safe parts, and an ingenious trick for locking the coffee grounds cup to the filter press after plunging.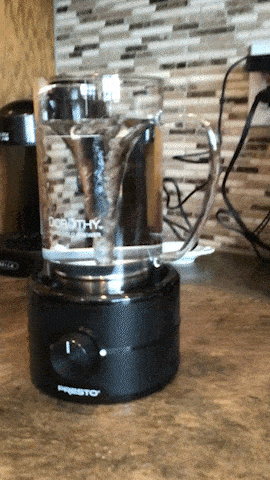 First attempts to make coffee with the Dorothy
First impressions, this coffee maker is a neat party trick. To make coffee with this, fill it with tap water or room temperature bottled water (about 3 cups). Temperature affects extraction rate so cold water from the fridge doesn't play well with rapid extraction techniques.
Use the speed dial to start the water swirling until a little tornado forms and the tornado tip just touches the bottom of the brewer.
Add 2/3 of a cup of coffee grounds (the manufacturer recommends medium grind) into the tornado and wait. Your coffee can be ready in as little as 15 minutes. This is achieved by 10 minutes swirling in the machine, and 5 minutes letting the grounds settle before plunging to filter.
What was the result? In my opinion, 10 minutes was not long enough, the coffee was weak and didn't have that nice bold, smooth flavor of traditional cold brew.
The next time I tried letting it swirl for 30 minutes. The instructions claim that this is the equivalent of 24 hours of traditional brew time. This helped a bit.
The best result was letting it swirl for 15-20 minutes and then letting it sit for an additional 30 minutes. This defeats the purpose of ultra-fast cold brew, but still shaves a lot of time off of traditional brewing.
The biggest downside is the constant agitation seems to make a cloudier, sludgier brew, even after pouring it through a paper coffee filter.
This problem is not exclusive to this coffee maker, the other type of rapid cold brewer I tested had the same issue (the Forias). This may not be a deal breaker for everyone, but it is for me.
Maybe the question is, are you willing to trade brew time for coffee clarity? That's a question everyone will need to answer for themselves.
What I like about this cold brewer
The Dorothy does make cold brew fast, perfect if you are forgetful! Even if I let it extract for a little longer than advertised, it is still only about 45 minutes to a decent cup.
That said, if I can wait 45 minutes to an hour, I find my Dripo produces a far better tasting cup of coffee than this machine (in fact my Dripo may produce my favorite tasting coffee full stop). With the Dripo usually enough coffee has dripped through after 45 minutes that I can steal some and then let it finish its thing.
The Dorothy has a built-in filter like a French press. I love that the coffee grounds cup clicks onto the plunger for removal. That is a clever design feature.
I also like that it is made of glass. I know most food-grade plastic is probably safe to brew in, but I still prefer a glass container when possible.
Overall, the quality of this machine is good. The parts look sturdy although the carafe is somewhat thin. I wouldn't want to drop it on a hard surface.
The recommended cleanup is to remove the gasket from the filter and wash all the parts (except the motorized base of course) in hot soapy water. However, the parts are safe in the top rack of the dishwasher.
The glass carafe is 7 inches high, so it may not fit in the top rack of all dishwashers.
It is easy and fun to use and not too difficult to clean up. It also includes a one year warranty.
Many people love this brewer so I had high hopes for it, but for me the biggest shortcoming is I like my cold brew fairly clear. I don't mind a dab of fine silt at the bottom of my glass, but I don't like cloudy coffee. For this reason, I feel like there are better options for rapid cold brew.
As I mentioned, a drip-style brewer usually has produced enough coffee to tide you over by the end of the first hour. I use the Dripo, however it appears to be discontinued. Similar drip brewers include the Mueller Quick Brew or the Recafimil Cold Dripper (affiliate links, Amazon).
Or, the Forias brewer pushes and pulls the water through the coffee grounds and while still producing coffee that is a little cloudy, overall I prefer it to coffee made with the Dorothy. I will be reviewing that one next.