Bodum Bean Cold Brew Coffee Maker Review
This post may contain affiliate links. If you make a purchase through a link I may earn a commission. As an Amazon affiliate I earn from qualifying purchases.
I have had the Bodum cold brew pitcher for several years now and I can't believe I have never written about it before. It was one of the first cold brew makers I bought.
The TL;DR
Overall I have been happy with my Bodum because of:
The Bodum is essentially a large french press so why would you use this instead of an ordinary French press? The main difference is in the plunger, which includes a silicone ring around the edges, which helps to separate the grounds from the water.
Cold brew coffee is made in two main ways: through immersion or by cold drip.
Note: Some coffee maker are also classified as rapid cold brew makers. They are just a variation of immersion in that they agitate the grounds in the water in order to speed up extraction.
Pitcher style cold brew makers work via immersion. You really don't need fancy equipment to do this, you can make cold brew with any sort of container with a lid (for example a mason jar) and soak coffee grounds in water.
What this means is when evaluating pitcher style cold brew makers we can't really make any sort of distinctions about which coffee maker will make better coffee.
Good cold brew is the result of good water, coffee beans that you like, time, and temperature.
None of those variables have anything to do with the coffee maker itself.
So what can we evaluate?
size of the pitcher and its capacity
filtration method
materials
ease of cleanup
Let's get started.
Capacity:
The Bodum is a large pitcher, larger or equivalent in size to a large french press coffee maker. It has a capacity of 51 oz. or a little over 6 cups.
If you like to make coffee for multiple people, or for several days in advance then this is a good choice because of its large capacity. Make a concentrate and you can get even more servings out of this.
In terms of physical size, this will fit in most fridge doors and on most fridge shelves. The diameter is 17 cm (6.7 inches) and it is 22 cm high (8.7 inches)
Materials:
Traditional french press coffee makers are usually made of glass, the Bodum pitcher is made of plastic, with the plunger filter made of stainless steel, and a silicone ring around the plunger and the separate storage lid.
While some users have successfully used the Bodum for hot coffee, I would select a heat resistant glass pitcher if you plan to make both hot and cold coffee with your pitcher.
That said, materials is largely personal preference, some people avoid plastics in any food preparation and for others this is not an issue.
Filtration:
Immersion cold brew is based on soaking coffee in water for a period of time, which means we need a way to separate the grounds from the water before drinking.
Pitcher brewers are often differentiated by the type of filtration. Some use a built-in filter basket while others are like a French press.
The Bodum is a French press style pitcher. Once brewing is complete you can press down the plunger to separate the grounds from the water.
What separates the Bodum from an ordinary French press is a silicone ring around the edge of the plunger instead of a wire coil like most French presses have.
While both of these features are obviously designed to contain the grounds in the bottom of the pitcher, unfortunately it's still not perfect in isolating grounds.
You can see with my coffee filter test that there was still a fine residue left in the coffee.
If a little sludge in your cup is bothersome to you, you may want to additionally filter out your coffee through a paper coffee filter before drinking. This is what I do.
It is recommended to let your coffee sit for a minute or two after plunging and this can help minimize the sludge, giving it a chance to settle before pouring. In my experience, this helps but does not eliminate the problem, even with careful pouring.
The Bodum comes with a separate lid so that once you have strained out your coffee you can store your coffee in the pitcher. I also use this lid during brewing, only placing the filter apparatus on when ready to strain. There is no right or wrong here. If you brew with the filter lid in place, just leave the plunger raised. The downside of that is you will need to find a place in your fridge that accommodates the height of this.
If you leave the filter in during storage you will still have a little contact between coffee liquid and plunged grounds and over extraction is possible.
Cleanup:
Cleaning the pitcher is easy. All parts are dishwasher safe, although I tend to hand wash them in hot soapy water.
Whichever you choose, make sure your cold brew pitcher is thoroughly cleaned between use to avoid any microbial growth.
The silicone rings around both the lid and the filter press will take on coffee stain over time. This doesn't affect use or safety as long as you are cleaning all parts between use.
Bodum does offer a replacement filter for sale on their website, although for the price you may as well get a whole new system as they are equivalent.
Final Thoughts
I have had my Bodum for a few years now and get into kicks where I use it frequently and then it sits in my cupboard for several weeks unused. This is more a function of the fact that I have several cold Brewers thanks to this website, but my point being that it has held up fairly well however the French Press mechanism is starting to come apart near the lid.
The French Press filter has always been a little finicky to get on and off and with this separation starting to occur it's becoming even more difficult.
And because when I first got this little brewer I could not for the life of me get the lid on, look for the tiny little triangles and line them up to the front of the ridges on the plunger lid, and then twist in order to get it on.
All in all there are some shortcomings to the Bodum cold brewer. Given the silicone ring and the fine mesh filter, I was hopeful that this would provide better filtration than it actually does. That said, I still find myself using this when I want to make several days worth of coffee at a time.
Another use case? If you need cold brew in a (relative) hurry. With this brewer you could start a batch immersing, plunge it, pour yourself a glass of young cold brew, then pull up the plunger and let it continue extracting for several more hours before making your final strain.
In other words if you're desperate for coffee this makes it easy to pull off a little bit and then continue brewing.
At minimum we want cold brew to be immersed for 2 to 3 hours, but researchers have found that a lot of extraction has occurred by this point.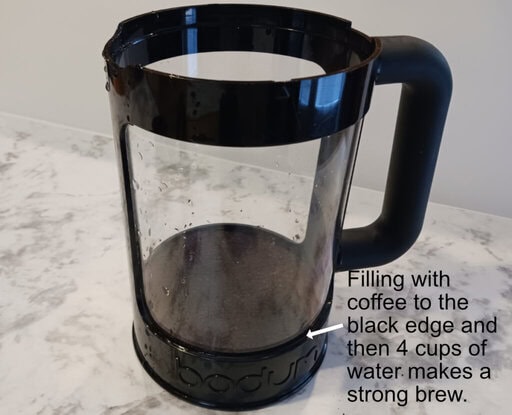 Bodum Cold Brew Coffee Maker: Instructions for Use:
Place coffee grounds into the pitcher at your preferred ratio. I find that if I fill it up with coffee up to about the black edge of the pitcher (see photo) and then add 4 c. of water I get a strong brew that can be diluted with a splash of water to your preferred strength.
Add water. Give it a little swirl to wet all the grounds. Place the lid on and put it into the fridge for up to 24 hours.
When ready to filter, place the press filter on by lining up the triangles on the lid to the coffee maker. When lined up correctly, it just takes a small turn (about an inch) to lock the lid in place.
Slowly press down on the plunger. You may feel some resistance. If it gets too hard to press, I pull up slightly then resume plunging. Since cold brew takes a lot of coffee, your filter will stop when the grounds are all compacted at the bottom of the pitcher.
Let the coffee maker sit for a minute or two after plunging to let the coffee settle.
Press on the tab at the back at the filter lid to pour.